Is Donald Trump a white nationalist
Republicans criticize Trump's Twitter attacks
Republican politicians accuse President Donald Trump of racism and demand an apology and the withdrawal of the controversial statements made on Twitter about politicians of the opposition Democrats. The only black Senator of the Republican Party, Tim Scott, accused Trump of pure racism. Instead of confronting the Democrats with arguments, Trump responded "with unacceptable personal attacks and racially offensive language," said the South Carolina senator.
Will Hurd, the only black Republican in the House of Representatives, sees it similarly. He told CNN that Trump's tweets were "racist and xenophobic" and "unworthy of the leader of the free world".
Trump does not challenge the criticism
Despite the storm of indignation on the part of the Democrats against his Twitter attacks, which were obviously aimed at a small group of aspiring Democratic MPs from the House of Representatives, the US President added on Monday: "If you don't like it here, you can leave ", said Trump at an appearance in the White House in Washington:" You hate our country, "claimed Trump. "They complain all the time." If you are not happy here, you should just leave the United States.
In a tweet on Sunday, Trump urged several Democrats to go back to their supposed home countries and solve the problems there, instead of giving the US good advice. He gave no names, but his remarks were easily recognizable on several young spokesmen for the Democrats such as Alexandria Ocasio-Cortez, Ilhan Omar, Rashida Tlaib and Ayanna Pressley.
Trump emphasized today that he had not mentioned any names in his tweets, but during his appearance in the White House explicitly referred to earlier statements by the Democratic MP Ilhan Omar. The President accused her and her party colleagues of spreading anti-Semitic positions, hatred of Israel and praises for enemies of the USA. If the Democrats really wanted to rally around these people, it would turn out badly for the party. When asked if he was concerned that many people viewed these statements as racist, Trump said, "I'm not worried because people agree with me."
Democrats go before the press
The four Democratic congressmen Ocasio-Cortez, Omar, Tlaib and Pressley, who had been attacked by Trump with fierce attacks, also spoke up again: Trump launched a "blatantly racist" attack to distract attention from the corruption of his administration, Omar said at a press conference with her three counterparts. "This is the agenda of white nationalists, whether it's in chat rooms or on national television. And now it has reached the White House garden."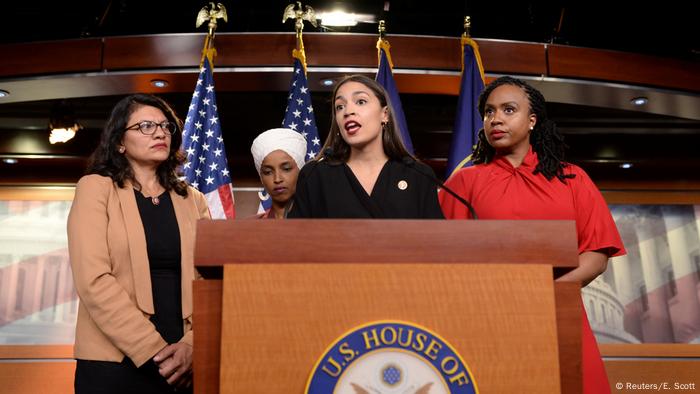 Four women against Trump - Tlaib, Omar, Ocasio-Cortez and Pressley (from left)
During the appearance in Congress, the women emphasized that they would not be intimidated by Trump. Omar and Tlaib also spoke out in favor of initiating impeachment proceedings against Trump.
qu / cgn (afp, rtr, dpa, ape)