Complex relationships in Corona times: Forbidden love
The state allows little direct contact: nuclear family, life partner. But what if the situation is more complicated?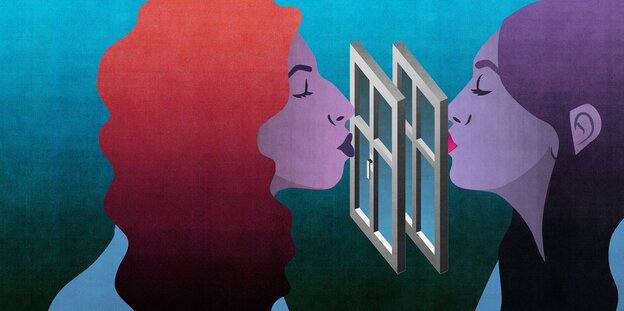 Love finds its way. They do not always lead to the goal Illustration: Stephanie F. Scholz
It is too early to say what will be. The scraps into which people's entrenched rhythm of life has been torn by the corona crisis are still being reassembled, somehow cemented and glued, everyday life, worries, new everyday life, new worries. Maybe nothing will be the same as it was before, but especially now everything is different, regardless of whether it is about how we work, shop, be together and also: how we love.
There are some who have it now very well: If you love each other and like to be together, even so gladly that that's the truth and not just empty phrases, you might finally be able to play the chess game or the discussion about the last film a glass of Baileys. It is now even available with ice cubes, because in the afternoon you thought about how nice it would be in the evening to sit together with a glass of Baileys with ice cubes and then even have the opportunity to put small water squares in the freezer compartment.
You have time to have the conversations that otherwise there is never time. Who can perhaps save a relationship that has already been given up. That you lost and that you missed. And of course there is more time for sex.
The crisis as an opportunity - this statement comes from everyday wisdom. The psychotherapist and author Andreas Knuf speaks of the crisis as a life event. As a turning point in everyday life, which sometimes has an impact on the rest of our lives. Knuf runs a practice in Konstanz and says: "Crises are times when fear issues arise", they are like a "litmus test for relationships", and he also says: "We are thrown back to the basics."
These foundations, which the state currently defines very traditionally: In all federal states, it is allowed to go outside with your own "nuclear family", however big it may be, and usually also your long-term partner : to visit in.
A pandemic has no needs
But what if it's not that easy? For people who do not live together, being together is now associated with risk. On the way, but also when more people, such as roommates, are involved. There are no precise guidelines for those who deviate from classic concepts such as polyamorous people, affairs, lovers who are freshly together. Sex with someone outside of your household is discouraged, as it was in the 1950s. More complex situations are undesirable. Now one can say: a pandemic knows no needs. But you can also say: love doesn't know a pandemic.
Because you still want to see each other if you like or even love each other, even if the German state does not provide a definition for it. The German Society for Psychiatry and Psychotherapy warns that social isolation could exacerbate psychological disorders and thus increase the number of suicides. Studies on the consequences of social isolation through quarantine confirm these fears. They show: Even those who had not previously struggled with psychological problems report feelings of fear, anger and sleep disorders after having overcome isolation. Some of the respondents continued to suffer from the consequences years later.

This text comes from the taz on the weekend. Always from Saturday at the kiosk, in the eKiosk or with a weekend subscription. And on Facebook and Twitter.
In the first letter of the Corinthians, verse 13, it says: "But now there remain faith, hope, love, these three; but love is the greatest of them. "One does not have to be a believer to appreciate the Bible for this sentence.
Love has always been more and more than mother, father, child or the monogamous relationship of two, more and more than terms that can never understand everything. Love has innumerable facets, it can feel very different today than it will be tomorrow, and not for everyone: it becomes less if you share it. Love knows no limits and yet it sometimes has limits. In times of a pandemic, for example.
We found five people who talk. They are in love, they love, and yet they don't fit into any "core" version. They are people whose love life has changed due to Corona, once for the better, four times for the bad, sometimes it also hurts.
* Hardly anything is more private than love. The names were therefore changed at the request of the respondents.
* * *
The beloved
Tanja Großejohann * runs a hairdressing salon in a small town in Schleswig-Holstein. The 35-year-old loves a married man. She sounds resigned on the phone.
"We've been together for eight months. We got to know each other through friends. At first I didn't know he was married, that's not necessarily the first thing you ask. We started writing to each other on Facebook. Then on the first date he talked about his marriage. My first thought, of course, was: I can't do that, I can't do that. Such a relationship does not correspond to what I imagine a partnership to be. But that's easy to say when you're in love.
Tanja Großejohann
"He had decided that he would leave his wife. Then came Corona. He had not spoken to his wife until then. And now it's too late "
I've made up my mind: I'll only go along with it as long as it's good for me. If that changes, then you just have to end the whole thing.
And that's how it happened. A few weeks ago I said to him: either completely or not at all. I don't want to be the beloved forever. He then decided that he would leave his wife.
Then came Corona. He had not spoken to his wife until then. And now it's too late. I don't expect him to leave his family at such times. But that's difficult. 'Cause I'm sitting here alone With all the thoughts and worries about my salon and anger while he's with his family.
We write a lot on WhatsApp and make regular phone calls. He calls me a lot from his lunch break. We also saw each other briefly on a Sunday. He was in the area then and stopped by for an hour. But of course that's not enough. I never thought that I would get into such a situation. Right now I have a lot of time to think.
I know: I'm in a position I don't want to be in. I want to have a partner who is there for me. "
Protocol: Gesa Steeger
* * *
The single
Christian Weber *, 48, works in the film industry and lives in Berlin.
"My normal going out behavior has changed enormously as a result of Corona. I usually go to bars and clubs a lot, sometimes for a glass of wine or a cocktail during the week. Of course, that is now completely eliminated. That's where I usually get to know men too. It's not always about taking someone home with you. For me, flirting is part of sex and can be very inspiring. And wherever I go, there is always someone hanging around who is interesting.
Since that is no longer applicable, I am now mainly on the relevant pages. Then you are only looking for sex, yes, even in times of Corona. If you do not want to do this for fear of the virus, you can leave it from the start.
What I actually experience now, however, that does not happen otherwise: People you chat with suddenly admit that they are not looking for a number, but just wanted to chat with someone again. Or they just want to come over to cuddle. You can tell how quickly human closeness is lacking.
Christian Weber
"What I actually experience now, however, that does not happen otherwise: People you chat with suddenly admit that they are not looking for a number, but just wanted to chat with someone again."
Most of the people on these sites are still looking for sex and nothing else is possible. Some people spend five hours or more every day, I usually go there once or twice a week. I don't feel like doing more, it's just not exciting enough for me. I miss getting to know each other, flirting, everything else that comes before sex. It's just different when you are on these pages. It is usually well after midnight when I invite someone to my place; then everyone knows what I want anyway.
I've been in a relationship for seven years now, and I'm really enjoying being single at the moment. From my circle of acquaintances, in which most of them are in a relationship, I have just learned what abysses are opening up in relationships. Suddenly you can no longer say that it takes longer in the office. Now it will show who can stand each other even in times of crisis.
In general, this is a very exciting time right now. I'm terrified how quickly people are willing to give up their freedoms. Even if this goes hand in hand with so much renunciation. I also always invite people to my place, always the same friends or men. Two days ago someone was with me who wanted to take a taxi back home afterwards. He is afraid of being stopped by the police because they are now constantly checking. You have to imagine this. Otherwise, however, I'm already trying to ignore the topic. Corona is simply a mood killer. "
Protocol: Hanna Voss
* * *
The long-distance relationship
Rita Schneider * is 66 years old, retired and has been in a long-distance relationship for 24 years.
"The uncertainty is the worst right now. We don't know when we'll meet again. He lives in Nuremberg because of work. Shortly before the curfew was imposed in Bavaria, he was still here. I've got it on my back and when he's here we always fetch the heavy water boxes.
We are on the phone a lot right now. I am afraid for him. He works for a security company and has a lot of contact with people. The company only gave him one glove for the whole day. He's cautious, but still. That is not possible. I tell him every day to watch out.
We met in 1996 at a carnival party in a restaurant. We both came from relationships and he was already living in Nuremberg at the time. We then approached each other bit by bit. We have many similarities. He was also from the east, born in Jena, and knows the area well here. We went hiking a lot, also with the children. He's not a stepfather to my children, nor did he want to be. But he was always nice to them and did not talk me into the upbringing. I wouldn't have wanted that either. My previous marriage was very unhappy and traumatic for me and the children.
Rita Schneider
"He has a car, so he can spontaneously come from Nuremberg to Jena. It's good. Our relationship would not be viable without a car "
That's not why I moved to Nuremberg. I had a job here and always made my own living. Everything is in order here. The investments, the insurance, the children. I always took care of everything myself, so I didn't need another marriage. I grew up with it too.
My partner and I don't see each other regularly. He's working in shifts, which is very irregular. Sometimes he works several twelve-hour shifts at a time, including at night. Often he also has to step in. Love has often suffered there. If you wait for someone and they won't come.
It takes three hours to drive from Jena to Nuremberg. When I visit him, I go there on Friday afternoons and back on Sundays. He has a car, so he can come here spontaneously. It's good. Our relationship would not be viable without a car.
If you ask me how you can stand being in a long distance relationship for years, I look at other relationships. They usually flatten out after two to three years because everything becomes routine. With us there is no real everyday life, there is still the feeling of anticipation when we finally see each other. For me he's the only one, and I am for him.
We have a warm relationship, so a lot fits. We have been going to Sweden for years, we have already come up to the north. That really contributes to this love for this beautiful country.
My partner will retire next year, then we will already have plans. He will then probably move to Jena and look for a small apartment nearby. Then we can finally see each other more. "
A few days after the phone call, Rita Schneider calls again: she has now checked with the health department. There she was told that her partner could visit her, despite the ban on contact and exit restrictions. However, they are not allowed to meet anyone else.
Protocol: Gesa Steeger
* * *
The newly in love
Julia Fluss *, is a 42-year-old educator and has just fallen in love. Four weeks ago, her new boyfriend moved into her three-room apartment in Berlin-Neukölln. Usually he lives in a 5-person flat share. On the phone, Fluss laughs a lot, she sounds happy.
"Usually my boyfriend and I see each other once a week. He is a musician and travels a lot, I work for an association in Neukölln, in the field of adult education. There is not much time left.
On March 19, shortly before the announcement of the ban on contact, things suddenly started: I received one rejection after the other, and within a very short time I had no more assignments for March and April. Now I would actually be in Riga to give a workshop. It's the same with my friend. All concerts have been canceled or postponed. We thought: Okay, work life canceled. What do we do?
Then I said: Maybe you will just come to see me for a few days? He actually lives in a 5-person flat share, and I live alone in a three-room apartment. At first we thought he would stay for a week. He was still commuting for the first few days. But that got too tricky for me, with the train and the rehearsal room and everything. You just meet too many people there.
Julia River
"I'm only bothered by the little things. For example, if he uses my hair dryer and doesn't wrap the cord properly, or if he bites his fork while eating. There is such a noise that I don't like "
We followed the news and saw what was happening in other countries. In Italy and France. That is bad. We then decided spontaneously that he would stay here. We can both work from home, so it doesn't matter where we are. He got his guitar and laptop, and he's been here ever since.
We're still at the beginning of the relationship and it's really nice that we spend so much time together. But of course the situation also accelerates a lot. There is time for conversation, we read books to each other, cook and bake together. We cleaned the apartment last week. It usually takes weeks or months for couples to get to this point. With us, it all happens within a few days. It's funny.
But so far there has been no argument. Even if I was a little stressed inside at the beginning. I was sick and somehow you want to look good for each other, especially at the beginning of the relationship. Of course, that's difficult in such a situation. I do not go to bed with full make-up on, but I do pay attention to basic hygiene. But now we're also hanging out in sweatpants.
I'm only bothered by the little things. For example, if he uses my hair dryer and doesn't wrap the cord properly, or if he bites his fork while eating. It makes a noise that I don't like. But these are things that are so small that I don't even speak to them.
When my friend moved in here, we made a plan. When we get up in the morning, when we work, when we take a break and so on. We work in separate rooms. But we didn't last long. We just love spending time together for that.
I do a lot of yoga. I now try to take an online course every day, I have little to do. You have to deal with that. My boyfriend is now joining in and teaching me the guitar in return.
How do you think it will be when the whole situation is over? Strange for sure. But we've already talked about it. I said: I don't want to go back to where we only see each other once a week. And I'm definitely not moving in with him in the 5-person shared apartment. Maybe he comes here or commutes between the apartments. I don't know what will happen in the next few weeks. But right now it feels good. "
Protocol: Gesa Steeger
* * *
The polyamours
Katja Meister * is 27 years old, a lawyer and lives with her fiancé in Münster. In addition to this relationship, Meister has two other partners.
"I've been with my fiancé for three years, and we've been living in the same apartment for about a year. He lives monogamous, I also date two other men on the side. We are Monopoly, as the saying goes.
This is of course a bit difficult in Corona times. I met one of the partners regularly until three weeks ago. I don't see him anymore. Communication is difficult, it was the same before. But the contact has just fallen asleep somehow. I can accept that, but I think that we will not function as a couple in the long term.
Katja Meister:
"I don't even see one of my partners now.Communication is difficult, it was the same before. With the other man, I got very close due to Corona, even though he lives in a different city. We write a lot "
With the other man, I got very close due to Corona, even though he lives in a different city. Suddenly we talk to each other and have the opportunity to clarify things that have always been problematic. How do we talk to each other? What are our rules What do we want from a partnership in general? It's very interesting. At least once a day one of us says: How long until this situation is over? We want to finally see each other and see what has changed as a result of our conversations.
Most of our communication takes place in writing. I live with my fiancé. You can't have a really private conversation because someone is always listening. That's not bad, but another building site. That's why it's a little weird right now, and I go out to make a call.
Last weekend my fiancé and I pissed each other off. We got really loud. I found that exciting. That has never happened before.
I need a lot of free space and me-time. In the morning I want to drink my coffee on the terrace and have some peace and quiet. This is of course difficult when you live with someone.
Our constellation is currently working quite well. Nobody feels the need to change anything. What is exciting: I am just noticing that the cornerstone in the respective partnerships is good communication. This is now the trial by fire. "
Protocol: Gesa Steeger