What does personal style mean
This is how you find your personal style
You pay attention to the current fashion, have already tried a few things yourself, implemented tips from friends - but you are still not sure what really suits you? Would you like to finally discover your own individual style? I will show you how you can find your personal style and finally your perfect outfit in 10 steps.
Finding your own personal, individual style is a bit like with a dish that you want to cook. There are basic recipes and basic ingredients, typical foods and methods of preparation. But what actually defines the recipe for your distinctive dish and thus the special sophistication is your very own way of proceeding, which ingredients you choose for it, in which dosage you add them, small but fine additions with spices, Herbs and aromas ... when and how long you let it simmer, steep or rest and how you finish it off, arrange, garnish and serve. And of course such a skill rarely develops overnight. But you practice, create and try ... not everything will work out the same, not everything will taste the same to you. But you have this idea, this picture in your head that may have inspired you, or even this taste on your tongue ... Your goal is within reach ...
It is similar with finding your personal style. Because that is exactly the crucial point. The more areas you look at and discover, pick out and make a decision, the more consistent the result will be and you will finally be able to define your own individual style.
1 Find your best colors
You have probably already heard that there are certain colors that "look good" on you. This expression doesn't come from anywhere. It is actually the colors that you wear in the immediate vicinity of your face that decide your color type. The decisive factor for this is your skin undertone, which is still visible when your face is well tanned from the sun - just not as good.
The winter time in particular is now particularly suitable to see which color tones suit you particularly well. When trying out, try not to pay attention to the respective color itself, but what effect it has on your face. This is not so easy at first, as we are used to seeing ourselves with certain colors and rejecting others for various reasons. Over time, however, you will get practice in this. Ask yourself which color makes you look particularly fresh, active, young, which one makes your eyes shine, emphasizes your lips? Or do you seem tired, undynamic, or older? When do you see shadows, wrinkles? It is also important that you do the whole thing in daylight so that the colors are not distorted by the artificial light.
2 Discover the expressiveness of the colors
Have you ever thought about the fact that colors in themselves also have a certain effect? There are sporty colors such as yellow and orange, for example, pastel tones often express a certain delicacy or softness. The classic colors such as dark blue, black and gray look serious and stable. Signal colors can express dynamism, willpower and persuasiveness. So take a close look at what suits you and what effect you want to achieve with your choice.
3 Choose from different materials
The point here is to determine which contours make up your face and body. The best thing to do is stand in front of the mirror without clothes or in very tight clothes and take a very close look at yourself. Try not to look at yourself with your usual gaze, but like someone you meet for the first time and you have been given permission to look very closely. Be curious about it, go on a discovery tour. How is your face shaped? Is it more like an oval or a rectangle, a triangle? How do the lines run on your face, eyebrows, eyes, nose and mouth? Are they curved or straight? Do you find both? How much of one and how much of the other? How about your body? Do you have straight shoulders or are they drooping? Is your body line more like an H or an X? So do you see straight or curved body lines in yourself? And how are your joints shaped? Are they strong or rather petite?
All of these features help you to recognize which materials are particularly suitable for you and your body:
If you find many curved, softer lines and narrower joints, then the softer or flowing fabrics also suit you, e.g. Fleece, flannel, viscose.
Conversely, firmer fabrics go well with a straight body, strong joints and a more angular face. These include cord, linen and denim, among others.
Above all, cotton, wool and velvet come in very different thicknesses. Here you can choose the right quality for you. The same applies to knitwear - here you will also find very flowing to quite thick, firm fabrics.
4 Know which cut suits you
With your close look, you have also taken a closer look at your body silhouette. Because it also says something about your individual style. Depending on whether it is more sporty, straight, feminine or balanced, you should make your choice of cut. As you can imagine, a female body is more likely to have an X-line cut (waist emphasized / or indicated), for example, a sporty body will be more an H-line cut (straight cut). The V-line (tapering towards the bottom) is advantageous for shorter women. The short A-line (narrower at the top, wider towards the middle) often flatters a stronger physique. The Y-line, on the other hand, goes wonderfully with tall women.
These criteria are later reflected in your decision on accessories, handbags, shoes and glasses.
By the way: the cutout also needs to be well chosen. You can find tips on this in my guide
10 + 1 basics that you should definitely have in your wardrobe.
5 Come yours Muston the trail of eras, shapes and lines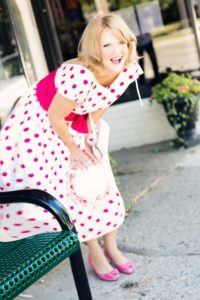 As you can already guess, the body types just mentioned also have different patterns - for a feminine figure, for example, there are more flowery motifs or curved shapes, soft lines. The sporty type, on the other hand, often features straight lines, stripes or checks. Classic patterns such as houndstooth, pepita or vichy go well with the classic type with a balanced figure, or they can do very well without.
6 Define your needs, preferences, wishes
With all of the above, however, you should never ignore your own preferences and needs. On the contrary - look at the results and decide which of them suits you and your personality and what you are really comfortable with. For example, you have a very feminine body, but you don't like floral patterns? Then try it with soft lines instead, or you can choose the feminine colors such as red, pink or rosé for yourself. Instead of ruffles, you could opt for more flowing fabric or lace. You have a large selection and an even greater number of possible combinations. So take a close look, feel inside yourself and try out. Over time you will find the right combination for you.
7 See your everyday life with different eyes

Our everyday life influences o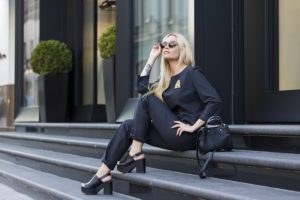 ft our buying decision when it comes to clothing. Unfortunately, we women sometimes think too quickly simply in practical terms. In principle, the external circumstances will of course influence our decision, but they do not always have to be, at least not to the extent that we often think. Because here, too, the following applies: What do you want to express? How do you want to feel? What can you identify with 100 percent? The important thing is: stay completely YOU here too.
8 Make friends with the dress code
Of course, our outfit is subject to certain rules in everyday working life. But often there are also variations or small additions that you can make. The color of the service t-shirt doesn't suit you? How about a small, light scarf in your best color or you can find one that combines both? You can wear your matching top under a work smock, which at least suits you in terms of color and material, pattern and neckline. Different cuts and individual and therefore suitable skirt lengths are sometimes possible for costumes. You often have a certain freedom of choice when it comes to your choice of shoes or accessories.
Even without a fixed dress code - think about how you can "show your colors" at your workplace and implement your style there. You don't have to step out of line, but why not skilfully stand out from the crowd and commit yourself to your style? Combine necessity with your personal chic.
9 Give sport & hobby your special touch

With your sportswear
ng you also have a free choice within a certain framework - use it. Take a look around and decide on an outfit that really suits your type and note the tips already mentioned above. The effort is worth it, because here, too, you can express what really sets you apart.
Your hobby or interests can also be reflected in your clothes - if you enjoy it and feel comfortable doing it.
The British Isles, for example, are my great passion. That's why I give my style that special touch from time to time. That's why you can always discover a tartan pattern with me in the form of a scarf, an umbrella ... - tights with a Big Ben motif are also one of my favorite items.
10 Last but not least - show your unmistakable personality
Look closely! Think about what makes you stand out not only in terms of external factors, but also as a personality and how you can express this and what possible combinations there are for you here.
Your color test showed that delicate colors look best on you, but you want to give your clear, strong personality more expression? Then try color contrasts. How about a combination, for example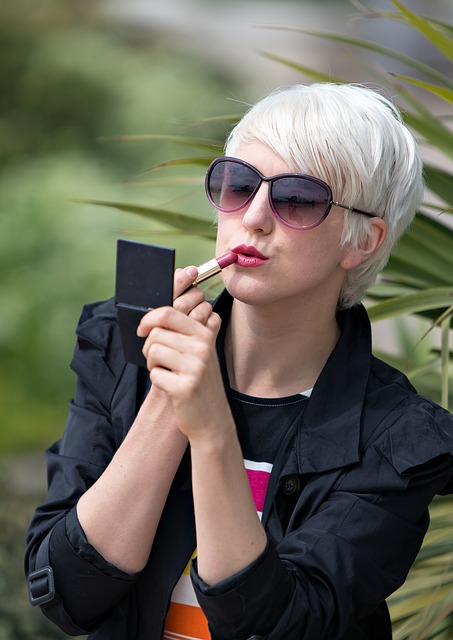 ation of light blue and anthracite, mint with navy or almost mauve with ultra violet (two of the new spring colors for 2018)?
You have a sporty figure with wider shoulders and a less pronounced waist, but you want to emphasize your femininity more? Then combine the different features with each other, for example by keeping the straight cut, but opting for feminine colors and softer fabrics.
Do you have role models, women who impress you? Then think about what appeals to you about them. What is the special note? Which factors determine your particular style? Once you have found it out, don't take it over one-to-one, but make it suitable for you. Be brave, try it out. Ask people you trust what they think of this new look. It can be important here to ask others than you usually do - because we all have this "familiar look". Sometimes it is difficult to accept new things and find the unusual to be suitable and beautiful. But you will see that when you have developed your own personal style over time, you will feel even more comfortable in your own skin and others will also reflect this in a positive way.
Would like more?
Of course, I could only offer you approaches and examples here, but I hope that my 10 steps have inspired you and made you want more - more colors, more details, more individuality and more courage. That would make me happy!
You can find more tips in my guide 10 + 1 basics that you should definitely have in your wardrobeIf you would like to take a closer look and would like competent support to find your personal style and thus also your perfect outfit, then contact me for one meeting to agree with me or for a free Getting to know each other.
And now I wish you a lot of fun exploring!
Your Bettina