What are some disappointing things about Cuba
Disenchantment and disappointment in Cuba
"Donald Trump is an idiot," says Alejandro García when asked about the US president and his policies. The facial expression of the man in his mid-thirties, who worked as a restorer in Havana's old town for years and now earns his bread in a privately run hostel, is really annoying. "I thought that as a businessman he would recognize the opportunities that Cuba offers US companies. After all, he has wanted to open a hotel in Cuba himself."
But instead of continuing the rapprochement policy begun under Barack Obama, the US under Trump returned to Cold War rhetoric last year. In early November, the US government published new travel and business restrictions for its citizens and businesses with Cuba. According to this, individual travel is no longer possible for most Americans; business with Cuban state-owned companies is also made more difficult. Around 580,000 Americans had visited Cuba by the beginning of November, an increase of 250 percent compared to the same period last year.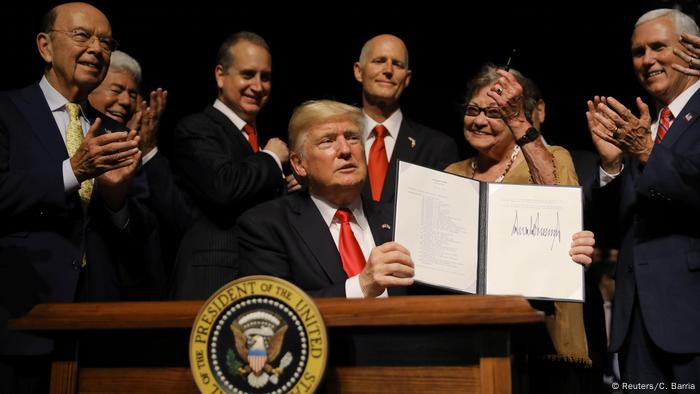 US President Trump and his "Executive Order", with which he largely overturned the Cuban policy of his predecessor.
"The Americans will probably stay away again now," suspects Claudia García, who is not related to Alejandro. She rents part of her apartment in the center of Havana to tourists. "The Americans were never really a factor in tourism in Cuba, but we all hoped that more tourists from the USA would now come here."
The wind has gotten rougher
With the restrictions, Trump is reversing some of the measures taken by the Obama administration, but without completely scaling back its policies - but it is fueling uncertainty among travelers and potential investors. The USA and Cuba only resumed diplomatic relations in mid-2015 after more than half a century of Ice Age, after Obama and Cuba's President Raúl Castro announced a restart of relations between the two countries in December 2014.
Now there is again a much rougher wind blowing in bilateral relations. Suspected "sonic attacks" against US diplomats, which are used as an excuse for the US government to reduce diplomatic relations to a minimum and to stop the issuing of visas, also contributed to this. Havana rejects any involvement and called the alleged incidents "science fiction".
"That is quite a blow. You think that things are finally moving forward and relations with the USA are normalizing and then that," says Yoao Hojas, visual artist who has just returned from a trip from Germany. He considers the "sonic attacks" to be an invention of the US government in order to have a pretext for freezing diplomatic relations. "Now we have to wait at least four years before something moves," he says. He, too, finds little printable words to express his opinion on the US president.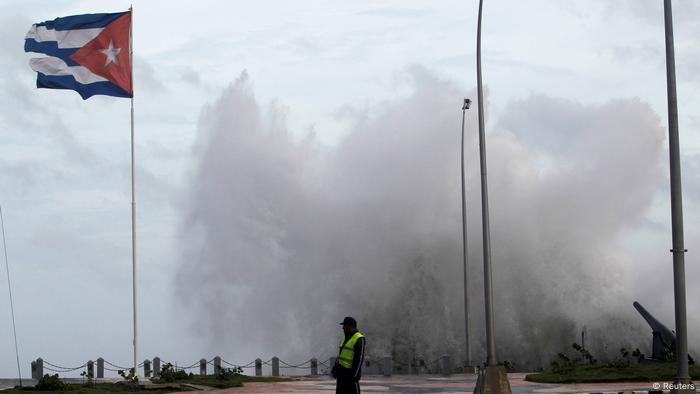 Hurricane Irma in September 2017 also badly damaged the Cuban economy.
Hojas had also hoped to benefit from US tourism and rent his apartment to tourists. "So far the year has been rather sluggish." Claudia García reports something similar. "I haven't had much guests in the last few months. That was rather disappointing. But maybe it had something to do with Irma as well." Hurricane Irma swept across the island with wind force 5 in early September and caused great damage. In the weeks that followed, many vacation trips were canceled.
The economy will shrink
In addition to the devastation caused by the hurricane and the changed general political weather situation, there is the reduction in oil deliveries due to the political and economic difficulties of Cuba's most important ally Venezuela, as well as the low world market prices for sugar and nickel - Cuba's main export raw materials.
The Cuban economy could contract for the second year in a row. Economists such as Carmelo Mesa-Lago, who teaches at the University of Pittsburgh, expect Cuban gross domestic product to decline by 0.3 percent this year. The rating agency Moody's anticipates a decline of 0.5 percent.
"All the euphoria and dynamism that Obama triggered has disappeared. You have the feeling that everything is on hold again," says Hojas. External pressure and economic difficulties have led to a "fasting-your-seat-belts" phase inside. Further steps in opening up and reform were initially put on hold.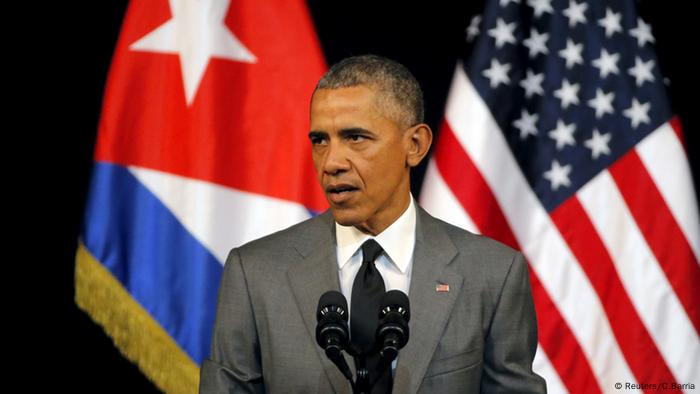 Former President Barack Obama, here giving a speech in Havana in 2016, had raised hopes that have now been disappointed.
Domestically, too, there is no longer any progress
The decentralization of state-owned enterprises has been slowed down, the approval process for foreign investments is slow; likewise, the opening up of the private sector has stalled. Since August, no new business licenses for self-employed work, as Cuba's small business is called, have been issued. The long announced monetary union is also still a long time coming.
"It was said that the license suspension was only temporary, but it's almost the end of the year and still nothing is happening," says Hojas. "I know people who have invested a lot of money in restaurants or bars and now cannot get a license to open their shop." The bureaucratic hurdles ensured that the country did not move. He himself toyed with the idea of ​​pursuing his career abroad.
Alejandro García is also not very confident that things will change in the foreseeable future. "It's the end of the year, I have to see where I can find money and when I look back I see that nothing has changed," he says. "One more year and nothing good has happened. But you have to live and hope that everything will get better."