Who raised Anne Boleyn's daughter Elizabeth
Author page
---
<< zurück weiter >>
---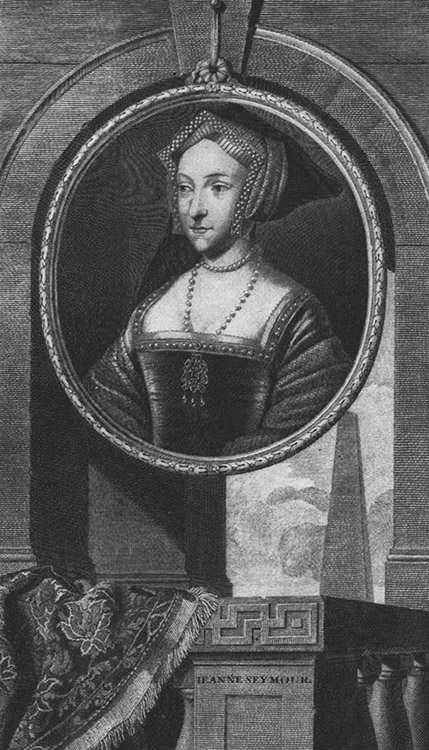 3. Jane Seymour, wife of Henry VIII.
Engraving by Vermeullen after a painting by Adrian van der Werff
Second chapter. Childhood years
The child Elisabeth, over whose baptismal font four lords once held a magnificent canopy, to whom the daughter of the Duke of Norfolk, Maria Howard, wore the hermelin-lined red velvet baptismal gown with the endless train like the purple cloak of a queen, this child fell through the annulment of the marriage and the death of his mother not only in an ambiguous but also in a very poor situation. If it hadn't been for Lady Margaret Bryan, who knows what would have become of the poor little girl. In this kind-hearted lady, the outcast by her father, as well as her now nineteen-year-old stepsister Maria, find a second mother and helper.
Far from the court in London, where glamor and joy reign with the arrival of the new Queen, little Princess Elisabeth lives at Hunsdon Castle, fortunately unconscious of her child's soul, the life of a disregarded. Maria also spends her bitter youth here, torn by shame and pain over the fate of her mother, Katharinas von Aragon, in constant rebellion against her father and his "concubine". Maria Anna Boleyn never gave a different title. Henry VIII cares neither about this nor the other daughter. He doesn't hate little Elisabeth. He particularly hates Maria, who is strictly Catholic from her Spanish mother. He fears her accusing eyes, her whole ostentatiously displayed nature of the offended daughter. Once she had to cede all rights to her little sister Elisabeth, even her title Princess of Wales. In Hunsdon or Hatfield she has lived for three years at Anna Boleyn's instigation as a disinherited, like a prisoner. As long as Elisabeth's mother lived, Maria could not dare to write to her father, not even to her unhappy mother. When the dying woman asks for her child in January 1536, the daughter is forbidden to say goodbye. Heinrich showed so little human feeling towards this daughter, and Anna Boleyn supported him in this.
But now the same misfortune has overtaken Anna's own daughter Elisabeth, who was born in such a splendid way. She, too, has been forgotten by her father, deprived of all rights, robbed of all splendor. In Hunsdon, a small, miserable court, under the supervision of Lady Bryan, the child hardly has the bare minimum. The governess has to turn to the almighty keeper of the state seal, Lord Cromwell, who brought Anna Boleyn to the scaffold, so that he can go to the king to get the little princess clothes and linen. Lady Bryan doesn't even know how and what to treat her wards now. "The relationship in which Milady Elisabeth should now be viewed," she writes, "is only known to me from hearsay. I also don't know how to look at you and me or any of the people standing below me, that is, your guards. Therefore, my lord, I beg your benevolence for my little one. I ask you to send her some clothes, because she has neither lingerie, nor a skirt, nor a camisole, nor a petticoat, nor anything on linen, neither shirts nor shawls. She has no coat, no bonnet. With Your Grace's permission, I have kept it as long as possible, but now, on my word, I can no longer go on. Please, please, my lord, see that my graces get what is necessary. "
On the other hand, Heinrich has decreed that the little three-year-old should dine every day at the big table in Hunsdon, where she is treated at lunchtime and in the evening with the heavy dishes of the time, when women were used to overfilling their stomachs. "Oh, my lord," implores the teacher, "it is not possible for a child of that age to lead such a way of life. I tell you frankly that I cannot take it upon myself to keep her healthy if she is allowed to eat like that. She sees so much food, fruit and wine, and it is difficult for me to withhold your graces from them. "Lady Bryan knows her little protégé and his idiosyncratic will very well. She knows that Elisabeth already has all the potential for a pleasurable, enjoyable life. "She is still too young," continues Lady Bryan, "to do such a thing in earnest, but once she gets this far, I cannot use her either to the glory of His Majesty the King or her own or to the glory of yours truly, least of all, raise them to maintain their health. And that is why I urge you, my lord, to express my desires. Oh, please see to it that my lady gets a course in the room, something of a good dish or two. That is enough for the princess ... Good my lord, remember my little ones and myself. "
In the meantime, Heinrich married Jane Seymour the day after Anna Boleyn's execution. Soon afterwards, the parliament went through the files that declared his daughter Elisabeth incapable of succession to the throne and recognized the descendants of the new Queen Jane Seymour as entitled to inheritance. Heinrich's eldest daughter Maria is quietly happy that her little rival is now facing the same fate as her. Outwardly, however, Maria gives the impression that she is replacing motherly love for the intelligent, extremely gifted child from an early age. This is done at the same time with the intention of shaming the father who so easily forgets his children. Maria is almost twenty now. The death of her enemy Anna Boleyn has finally given her a certain freedom. A few hours before her execution, Anna, in deep repentance and despair, asked her stepdaughter for forgiveness for everything she had done to her evil. Now Maria takes courage. She knows her father. The new happiness in love puts him in a conciliatory mood. The memory of Maria's mother is blurred in him. Her death wiped everything out. Rather, his hatred is now for Anna Boleyn. So Mary undertakes - albeit still in a roundabout way - to win the grace of the Father anew, and with it the hope of recognition. In the heart of this proud, domineering, exceedingly ambitious girl, anger and grief for her lost right to the throne eats away. A lively exchange of letters develops between her and the almighty Thomas Cromwell. Like a drowning woman, Mary pleads for rescue. "I have long wanted to ask you to intercede with His Grace, the King my Father, in order to obtain His blessing and benevolence. But I understood: no one would have dared to speak in my favor as long as that woman lived who is no longer and for whom I ask God, in his great mercy, to forgive her everything. Now that she is no longer alive, I take the liberty of writing to you because I have always considered you to be one of my best friends. . . . "
Your good friend, the cunning Cromwell, is, however, not an easy one to win. He demands something in return. He demands nothing else from the deeply Catholic princess than the abandonment of her faith, furthermore the signing of a document, whereby she submits herself completely to Henry's rule and recognizes his sovereignty over the church. She must also consent to the annulment of her mother's marriage. She struggles with her conscience as a daughter and a Catholic. She takes advice from her powerful cousin Charles V. He advises her to give in because Henry VIII is necessary to him for his politics. When Cromwell has achieved everything, only then may Mary write to her father personally again and thank him for his great grace. Maria is smart enough to do whatever is asked of her. She remains a Catholic at heart and does not allow herself to be disturbed in her faith. When she writes to her father, she considers it diplomatic not only to ask for herself, but also to remind him of little sister Elisabeth. "I believe," she wrote to the King on July 26, 1536, "Elizabeth will one day give Your Highness cause for satisfaction, if it pleases Almighty God. She is a very obedient child. "
Heinrich, however, is not interested in the little daughter. It will soon be directed solely to his son, the eagerly awaited heir to the throne, whom Jane Seymour gave him in October 1537. With this event, all doubts, all difficulties about the future of England are put to an end. All hopes and wishes are directed towards this child. Heinrich is happy and - as Maria correctly suspected - in a forgiving mood. His eldest daughter is allowed to go to court, as godmother she is allowed to hold the little prince over the baptismal font. Three-year-old Elisabeth wears the precious christening gown with a train many meters long. Her tiny hands, however, are far too weak, and one of the dukes has to take the child in his arms so that he can carry the heavy burden with his help.
Heinrich's happiness with Jane is only a short one. Before he can receive the congratulations on the birth of his son Eduard from the English people, the young mother dies. For the first time fate tears from Heinrich's side a woman whom he has not yet grown tired of, whom he might have honored to the end because she bore him the heir to his throne. Both Maria and little Elisabeth lose an advocate for the king in Jane Seymour. She had won many followers at court through affability and kindness. She, too, was generally considered to be the protector of Protestantism. But she did not use her influence on Heinrich to promote hatred against the Catholics. Above all, Jane made sure that Elisabeth, who was cursed by a mother who had ended up on the scaffold, received a more careful upbringing than before. From that moment on the little girl came a little closer to the court. Their mental and physical well-being was better taken care of. And what Queen Jane introduced remained after her death. Especially when Prince Edward got bigger. He was tenderly in love with the sister, who was almost four years older than him. Elisabeth, still too young to see in her brother an unwelcome intruder in her rights, who robbed her of the English crown, returned the child's affection with spontaneous joy and happiness at having found a playmate.
When the prince was two years old, both children received a common education, the same teachers. This made them close for life. Elisabeth considered these childhood years with her brother to be the most beautiful of her life. She never spoke of Eduard other than in expressions of the greatest love and regret for his premature death. These years of shared childlike experience and learning are like a ray of light in their youth, surrounded by horror and danger. The executions that Heinrich's suspicion ordered every day, the persecution he had to endure Protestants today and Catholics tomorrow, probably affected the child Elisabeth little or nothing, firstly because she was still much too young and secondly mostly away from court was raised in his own court. But the later years of her childhood are already full of uncertainty and mistrust. She learns early on to pretend to be silent, to hold back. Often the obedience of the apparently docile child is only superficial. Inwardly, Elisabeth already suffers from every rejection and oppression. She is serious and smart like a great one. That ambivalent character of the later ruler, who was made up of pride, lust for domination, passion, willpower, weakness, moodiness and supple gentleness, is already slumbering in the little girl, who in no way denies her descent from her passionate, self-indulgent father and indulgent mother . But Elisabeth is also clever, very precocious as a child. Life itself teaches her to control herself, to control her wild Tudor temperament. At the court of her father, and even more so at the court of her sister Maria, she learned the kind of self-control that she so often had to exercise as queen for reasons of state. Both the tyrannical father and the no less domineering sister are quickly at hand with harsh punishments. You can't say much, at least not everything you think. The tower is dark. It could happen that once you were locked up in it, you never left your dungeon, never saw the sun again!
Elisabeth's childhood, however, was not without joys and many happy hours. Almost everyone who comes into contact with her likes her. At court, affection and love are shown to the polite, bright little girl.
You admire the child's quick-witted answers, their easy comprehension, their fondness for learning and, above all, their early talent for foreign languages. Heinrich, too, is pleased with his daughter's cleverness.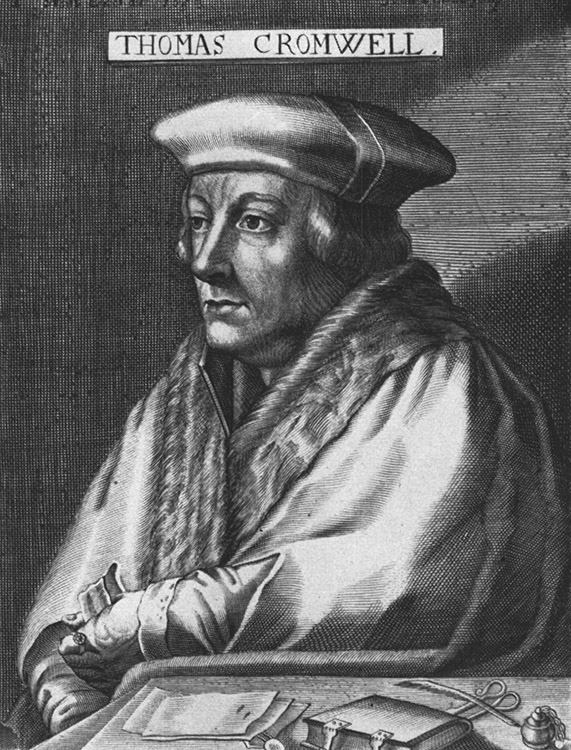 4. Thomas Cromwell, Keeper of the State Seal of Henry VIII.
Contemporary engraving
Elisabeth's spirit is formed very early in the sense of the Renaissance. There were many women at Heinrich's court who were educated and learned above average. Being able to converse fluently in Latin and Greek, as well as in living languages, is no exception, but the rule for upper-class Renaissance people. A lady who claims to be educated must have a philosophically thoroughly trained mind, in which poetry and music provide evidence of her ability, to be reasonably well versed in all areas of intellectual life, and experienced in social matters. In addition to a good intellectual education, the man must also be a bold rider, a fighter in all tournaments and jousting games. The women of the Renaissance have spirit, knowledge, and social security before all other feminine qualities, without neglecting lust and joie de vivre and their external beauty. All squeamish sentimentality, as it was so blatant in the 18th century, is alien to them. In this respect one is perhaps even nuances more robust and coarse at the English court than in France, where customs at this time are already beginning to become more refined and refined.
The world in which Elisabeth grows up is a mixture of genuine, deeply felt piety and thorough learning on the one hand, and of rampant debauchery, ruthlessness and brutality on the other. The father himself does not set a good example in his life. Some of his wives even less. But neither Heinrich nor his court sink into stupidity and stupidity. Above all enjoyment and raw enjoyment stands the spirit of the times, which produces a Bacon and Shakespeare, reformers and diplomats, men and women whom world history does not pass by. The clever child Elisabeth grows in her. Almost all of their father's wives discover some quality in the child that makes them interesting. Almost all of them sympathize with Elisabeth, if not more. Jane Seymour would have liked to become a second mother for the little one. Death snatches them from their own son and the motherless. Heinrich's fourth wife, Anna von Cleve, only had a brief marriage with him. It is Heinrich's greatest disappointment. She gets away with the divorce and hardly has time to warm up at her husband's court. Later on, a kind of friendship develops between her and Elisabeth. The infamous Catherine Howard, accused of adultery like Anna Boleyn, has to lay her head on the scaffold like her. And it was precisely she who did Elizabeth many benefits. Each of these three queens leaves in the child the memory of something of their personal influence, their nature. However, none of them lived at court long enough to be the leader and leader of the growing girl. Some are too young themselves, too preoccupied with their own affairs, to seriously concern themselves with the child's idiosyncrasy. The others are dominated by only one thought: to keep the favor of the king, her husband, for as long as possible. The fifth, Catherine Howard, gets lost in debauchery. At the age of 22 she climbed the scaffold on the orders of her husband.
Time and again women have the courage to go to death for Henry VIII after they have enjoyed earthly happiness with him for a little while. There is a sixth. Unlike any other. More mature, smarter, skillful and kind. Catherine Parr, widow of Lord Latimer, entered Windsor as Queen in 1543.
In addition to life experience and besides her human kindness, Heinrich's new wife has a very educated mind. She immediately recognizes the excellent gifts of Elisabeth, who is now ten years old. She sees what has been neglected here and what can still be made good. She takes them to her heart like the six-year-old heir to the throne. She is the first to make no difference that Elisabeth is the daughter of Anna Boleyn, who ended up on the scaffold. She too is a child of the English king, just as Eduard is his son. Both children have been without their mother for a long time. Both have so far been in the hands of paid educators and governesses.If John Cheke, William Grindall, and Roger Ascham were excellent educators and scholars, the children lacked the love and warmth of a mother. Above all, Elisabeth was left to her own devices. Only now, with Catherine Parr, does a childhood of love and understanding begin for her. The older he gets, the little brother clings to her more and more, more and more tenderly. He loves the clever sister with the reddish-flaming hair, with the boys' manners in their games together. Because the roles of the children almost seem to be reversed. Elisabeth seems to be the boy and Eduard, the delicate, delicate one, the girl. Both have something in common: the preference for their lessons! Both are intelligent. They learn everything with enthusiasm. Elisabeth is in many ways ahead of the younger, not only because she is older, but because she is extremely quick to grasp. She never needs to "study". She learns easily and works easily. Nothing is ever too much for her. Something is never too difficult for her. Both children are given the best teachers who do not relieve their students. The history professor is the famous scholar Haywood. Ascham and Grindall, two important humanists, are Elisabeth's tutors one after the other. Richard Cox and Professor John Clarke of Cambridge University direct the education of the heir to the throne.
Of course, Elisabeth and her brother became acquainted with the new religion, of which Catherine Parr is a follower. The children receive regular religious instruction. They start their day with prayers and religious reading from the Old or New Testament. After breakfast there are language classes, literature lessons and later art history and philosophy. Even the prince is way ahead of his age in school. He also has to practice knight games and weapons to strengthen his body, because the Renaissance abhorred sissies and couch potatoes.
Elisabeth, on the other hand, must not neglect music and dance. She learns to hit the lute and play the viola. Handicrafts fill a few hours of the child's day to protect the mind. But the new doctrine of faith is always the guiding star of the whole lesson. With God the children start the day, with God they end it. And yet Anna Boleyn's daughter was no more a real Protestant than she was a real Catholic during Maria's reign. Elizabeth's later compliance to the Roman church customs arose mainly from her extremely prudently calculating policy, but in part also from a certain lukewarmness to the new beliefs. As with Heinrich, her father, Elisabeth's religious feeling is also fluctuating. Heinrich actually only broke with the Roman Church out of spite, only because Rome refused to dissolve his marriage. However, he already had the National Church so far in his hand that he could risk this dangerous step without further ado. In his arbitrariness, unlimited in all things, he wanted to be sole ruler over the church as well. And he did what he wanted. To speak to Erich Mareks, "He forced a change in the constitution, the oath. In this way he has incorporated the most firmly established of the English institutions, with all their wealth of moral influence and material good and political power, into kingship. In doing so he raised himself once again above the power of Parliament, which he used as his tool in all of this. " Heinrich remained a Catholic in spite of everything, even though he had the monasteries abolished through Thomas Cromwell as vicar general and punished with violence and cruelty all who opposed his will. He made no difference whether they were Catholics or Protestants. Anyone who did not obey his word of power was punished with the stake.
What Henry VIII seemed powerless in was that he, too, could not stop the Protestant current of England. He protected many a reformer before, like Latimer, but his defiant and complete apostasy from Rome made the soil in England completely receptive to the new spirit that came from Germany. The Bible becomes common property. Any English person can read it in the national language. But it is still an imperfect church reform that Heinrich brought about out of personal egoism. Times are torn, the people are confused in religious divisions. The ruler's way of life and sacrilege weighs heavily on the country. England is gripped by immeasurable unrest, although her prosperity and wealth are increasing. At court, the rough emotional life of the king under the whitewash of sumptuous splendor and lust for pleasure reigns the same turmoil, the same restlessness. Many doubt Heinrich's sincere convictions.
The child Elisabeth sees relatively little of this life. When Catherine Parr finally allowed her to live near her father again after years of being kept away from court, she was not long afterwards driven out of his sight again for a whole year. She uttered her mother's name publicly in childlike innocence! But it is strictly forbidden for everyone, including the children, to ever mention Heinrich's divorced or murdered wives. Heinrich's anger erupts over Anna Boleyn's ten-year-old daughter, the living testimony of his terrible deed. Even the intercession of her kind protector is of no use to Elisabeth. Catherine is unable to get her husband to forgive the child. It is kept away from all family life of the king in St. James Palace, and the queen is not allowed to visit it either.
Almost a year has passed since Elisabeth suffered her father's disfavor. He has meanwhile gone to war against Francis I for the siege of Boulogne. The eleven-year-old takes this opportunity to touch her father's heart. There is a letter in Italian written by the child dated July 21, 1544 to her "good friend and real mother, the Queen." The little banished princess regrets that she has been deprived of Catherine's company. She finds this separation unbearable if she cannot hope to see it again soon.
"In my exile," writes Elisabeth, probably under the direction of her Italian teacher, "I noticed that you, Your Highness, looked after my well-being as kindly and lovingly as the King himself would have done . Therefore, not only do I feel obliged to obey you, but also to adore and love you like a daughter, especially knowing that Your Highness will never forget to speak of me in your letters to His Majesty. So it is up to me to turn to you for your intercession with the king, for I have not yet dared write to him myself. I beg your distinguished Highness, when you write to His Majesty, to recommend me to him especially with the request that he give me his blessing, which is so sweet for me. I also implore our Lord God to grant him the best of success and victory over his enemies, so that Your Highness and I can look forward to the speedy return of His Majesty.
At the same time I ask God to give your Highness a long life. I humbly kiss your Highness's hands and leave and commend myself entirely to your kindness
Most obedient daughter and most loyal servant to your Highness
Elisabeth. "
It is amazing how well the little girl knows how to express herself in a foreign language, even if the teacher has helped her. The Renaissance demanded a style and personality of expression from the courtly young ladies at this age, which Elisabeth later greatly diminished through her screwy spelling. At the same time as she was writing this letter to the Queen, the child was engaged in a difficult literary work, a translation from the French by Margaret of Valois, "Miroir de l'âme pècheresse". With an almost intellectually superior remark, Elizabeth sends the work to Queen Catherine. "I have tried to reproduce the work and its spirit as best I can, but unfortunately there is still much to be desired. Many positions are awkward and not turned out to my satisfaction. «The self-criticism of an eleven-year-old is astonishing.
Catherine finally manages to reconcile Heinrich with his daughter Elisabeth. She can show herself to him again, even if he takes little notice of her. But the child is grateful for every word, every look, every gesture of the father. She loves her father. He is the king of England. And she is his daughter. But she is happiest to be reunited with her brother Eduard. This separation was the hardest for her.
---
<< zurück weiter >>
---