What is the best polycrystalline diamond
Diamond suspensions
Diamond suspensions are used for rapid material removal with the aim of obtaining a perfectly polished surface that can be analyzed immediately. Which suspension should be used depends on the material to be processed and the desired end result. Below are a few examples of different material treatments. Monocrystalline diamond performs well for most processes. In some cases, however, a polycrystalline diamond suspension is required, which offers excellent removal and polishing performance, for example when polishing hard and sintered materials.
Thin, color-coded, highly concentrated, water (Aquapol) or oil-soluble (O) suspensions are available in two types: Aquapol-M or OM standard with monocrystalline diamond powder and Aquapol-P or OP premier type with polycrystalline diamond powder.
Uniform suspension of diamond particles.
Shaking not required.
Suitable for the Kemet electronics dispenser or other systems.
Available in bottles of 400 g and a spray gun. Other sizes (e.g. 500 ml, 1 liter, 2.5 liters) are available on request.
*ZERO VOC (Volatile Organic Compounds) - NO volatile organic compounds, no air pollutant, health and safety benefits. VOCs are organic chemicals that have a high vapor pressure at normal room temperature. Some VOCs can be harmful to health and / or the environment.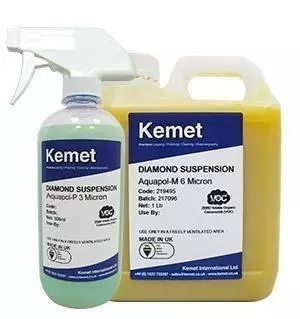 Aquapol-M diamond suspension
Water-based monocrystalline diamond suspension.
400g
micron
Order no.
1/10
219471
1/4
219459
1/2
219457
1
219450
3
219440
6
219448
9
219442
15
219444
25
219446
OM diamond suspension
Oil-based monocrystalline diamond suspension.
400g
micron
Order no.
1/10
216321
1/4
216323
1/2
216322
1
216324
3
216326
6
216328
9
216329
15
216331
25
216332
45
216333
Aquapol-P diamond suspension
Water-based polycrystalline diamond suspension.
400g
micron
Order no.
1/10
219472
1/4
219461
1/2
219463
1
219452
3
219453
6
219454
9
219455
15
219456
OP diamond suspension
Polycrystalline diamond suspension based on oil.
400g
micron
Order no.
1/10
216341
1/4
216342
1/2
216343
1
216344
3
216346
6
216347
9
216349
15
216350
Which diamond suspension should you use?
Here are some examples of recommended diamond suspensions. For use at different levels of polishing. Lubricant is required.
material
Abrasives
Pre-polishing
Final polishing
AISI 1040 (carbon steel)
6µ Aquapol-P
1µ Aquapol-P
AISI 4340 Low alloy steel
3µ Aquapol-P
1µ Aquapol-P
AISI M2 high speed steel
6µ Aquapol-M
3µ Aquapol-M
AA8011 aluminum alloy
3µ Aquapol-P
COL-K (NC)
Carbon fiber
-
1µ Aquapol-P
material
Abrasives
Pre-polishing
Final polishing
Ceramics
-
0.25µ Aquapol-P
copper
1µ Aquapol-P
COL-K (NC)
Glass
3µ Aquapol-P
0.25µ Aquapol-P
Mg-9Al (magnesium alloy)
3µ Aquapol-P
COL-K (NC)
titanium
6µ Aquapol-P
COL-K (NC)
KM diamond fluid
KM diamond fluid is a thin oil / water emulsion that is suitable for most applications in the metallography market. The new formula has the following advantages:
Lower viscosity for better stock removal
Fewer inclusion extracts
Spreads out better on the polishing cloth
Parts are easier to clean after polishing
Stable emulsion without secretions
Diamonds stay in suspension longer
Available in bottles of 400 g. Other sizes available upon request
| micron | colour | Order no. |
| --- | --- | --- |
| 1/2 | Gray | 211254 |
| 1 | blue | 211251 |
| 3 | green | 211253 |
| 6 | yellow | 211252 |
| 9 | red | 211255 |
| 15 micron | brown | 211256 |
AP diamond suspension
The Kemet diamond suspension AP is a high quality polycrystalline diamond suspension based on alcohol. It is especially suitable for polishing samples that must not come into contact with water. Available in bottles of 500 ml (other sizes available on request).
500ml
micron
Order no.
1
250350
3
250271
6
250272
WX diamond fluid - a highly viscous aqueous diamond suspension!
For most applications that require an aqueous diamond suspension, we recommend Kemet WM diamond fluid (made with monocrystalline diamond powder) or Kemet WP diamond fluid (made with polycrystalline diamond powder).
However, we have developed the WX grade for a number of special applications where a thicker diamond fluid is required.
WX is extremely suitable for polishing metallographic specimens.
No shaking required - the diamonds stay in suspension.
The finely powdered diamonds are evenly distributed in the liquid carrier and thus guarantee the creation of perfect surfaces.
Available in strong and extra strong concentrations.
Water soluble - the components are easy to clean.
Color coded for easy identification.
Suitable for all Kemet lapping and polishing discs.
Available in bottles of 400 g, 425 g or 2500 g net
If lubricant is required, we recommend Kemet type W2.
Advantages of polycrystalline diamond suspensions
The reason why polycrystalline diamond performs better than monocrystalline diamond is due to the structure of the diamond particles. Monocrystalline diamond contains a single crystal structure with different levels of cleavage that cause the diamond to break under tension
Polycrystalline diamond contains several thousand particles with a size of less than 0.01 μm, which are interconnected in a statistical structure. A larger split of the diamond is not possible.
This random structure gives polycrystalline diamonds an evenly distributed hardness which leads to less damage to the surface.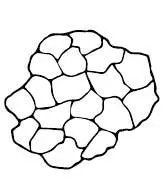 Polycrystalline diamond for ultra-fast removal:
Polycrystalline diamond particles are extremely rough and have three times the surface area of ​​monocrystalline particles.
More cutting edges
Faster removal
Less polishing steps
Finest surface treatments:
Polycrystalline diamond particles polish a workpiece evenly regardless of its orientation. They do not cause scratches or micro-cracks that are sometimes caused by single crystal particles.
Smoother results
less scratches
Less surface damage
Less polishing:
Polycrystalline particles are tough and equally strong in all directions. This allows higher pressures to be used for lapping and polishing, often reducing the number of steps required.
Polycrystalline diamond works well for materials that contain various soft / hard / brittle structures, such as cermets, ceramics, and metallographic or petrographic samples. Polycrystalline diamond preserves the integrity of the surface by not tearing out the brittle areas and gently polishing inhomogeneous areas.
Block shape with self-sharpening particles:
Due to the polycrystalline structure, particles with a block-like shape can be produced. When tiny monocrystallites break off, they show rough and sharp monocrystallites with equally effective cutting edges. The shape is retained.
Faster and smoother:
The many small crystallite groups that come into contact with the workpiece reach an extremely high pressure even when the parts are not subjected to low loads, and the material is removed from the surface in small pieces. The effect is both faster material removal and a smoother surface.
Applications
Kemet polycrystalline diamond products are particularly recommended for the following applications:
Sapphire - lapping and polishing of sapphire discs
Ceramic products, including hip joints and other engineering ceramic products that require a high quality finish
Fiber optics - especially for communication breakdowns
Metallographic and petrographic applications for polishing sintered materials - for example tungsten carbide and ceramics.
Kemet polycrystalline diamond polishing agents can be tailored to your specific application. Contact Kemet for more information